Here it is at last ... the new HubSpot announcements we've all been waiting for.
Here at the Inbound 2015 conference in Boston, HubSpot has just announced major platform updates to its Website Platform, Marketing Automation Tools and CRM software.
During the keynote speech this afternoon from HubSpot co-founders Brian Halligan and Dharmesh Shah, several significant major announcements were made. I've summarized the announcements, so here they are:
HubSpot Languages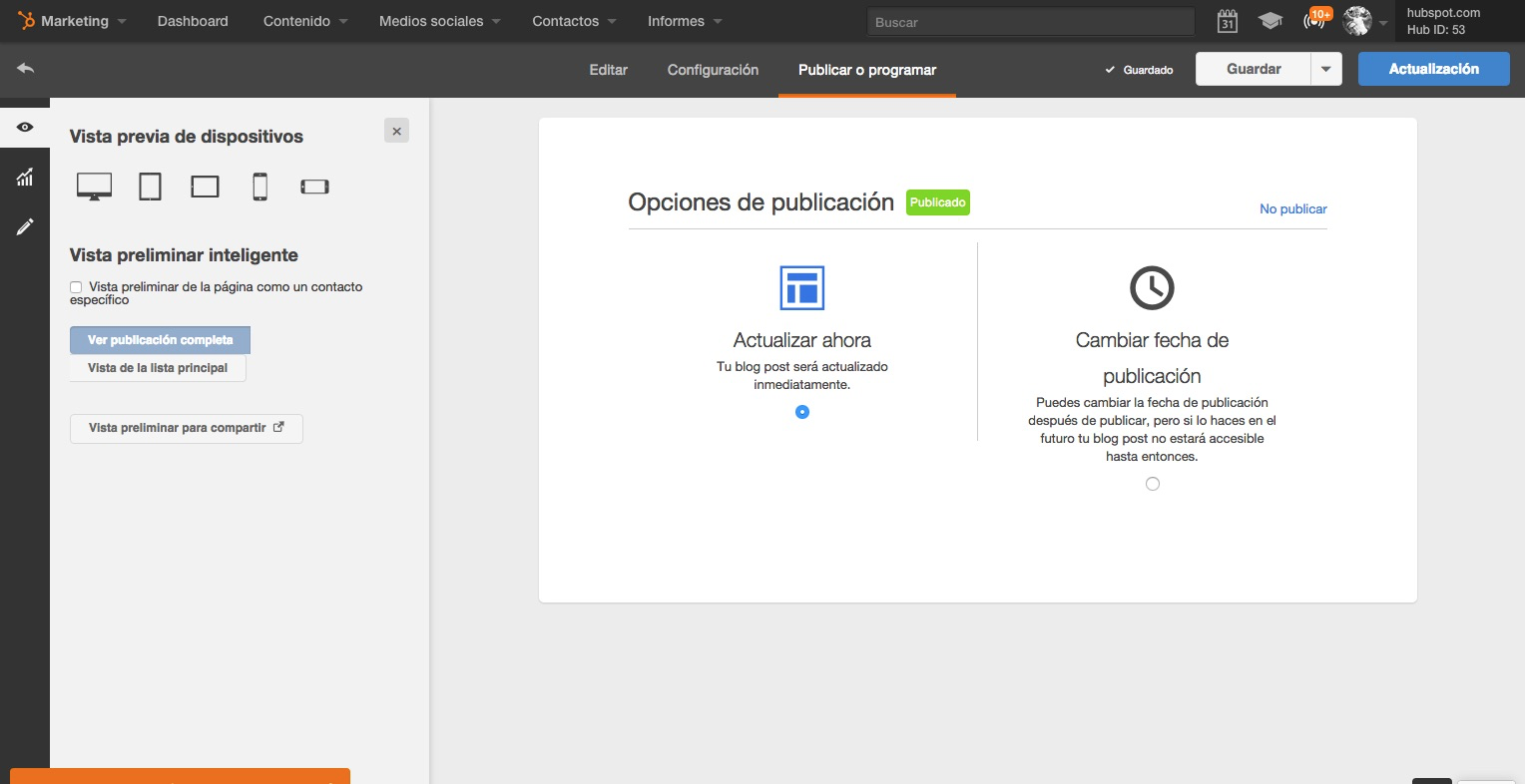 With 15,000 customers in 90 countries, HubSpot is now introducing five new languages to the platform: Spanish, German, Portuguese, French, and Japanese. This is welcome addition for us in Canada with a strong demand for English and French web platforms, and of course with the growing demand of Spanish as a second language in the US.

The Easy Initiative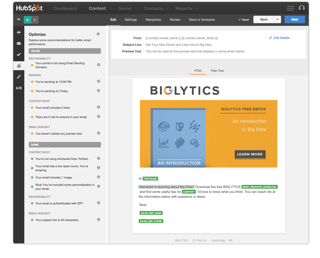 This new update is significant as the I believe the HubSpot COS is already one of the best and easiest to use CMS's (Content Management Systems) out there.
With The Easy Initiative, HubSpot is making an open commitment to make the entire HubSpot platform easy-to-use and faster for users. This is especially important down the road as more functionality gets added to HubSpot making it possibly more complex to average users.
The main features of the HubSpot Easy Initaitiveon the table today are:
A redesigned full-screen interface which adds more room on the screen and spreads out the creative elements, making them easier to work with.

The HubSpot In-context editing is a very welcome addition and keeps the HubSpot website updating process at the forefront of usability. The new editing screens with live preview allow you to edit page content without needing to jump between edit and preview screens.

There are now new dashboards across the entire platform providing better insights into the metrics, results and data.

Faster list loading with a change in the list experience lets you build a list and a workflow, and see it populate live.
You can see details of all the HubSpot Easy Initiative at http://www.hubspot.com/easy-initiative
HubSpot Website Platform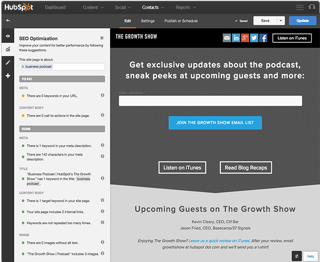 Any marketing team that is following Inbound Marketing needs a website that performs. Just having offers, blog posts, and landing pages will only take you so far in the Inbound Marketing process.
Your website is the central component to all of your inbound marketing efforts and helps determine how, and if, strangers turn into customers. All of your inbound marketing efforts should tie-back to the website and drive visitors to convert to customers.
In addition to the new HubSpot Easy Initiative, The HubSpot COS website platform has been greatly improved to make the website building and maintenance process easier. Here are some of the new Hubspot Website Platform feature updates:
More than 1,600 updates, fixes, and enhancements have been added over the past two years on the HubSpot Website Grader

Editing capabilities on one simple screen with integrated live preview

SEO optimizers for all pages, which were originally located only on blog pages - This is certainly a welcome addition and one that Terry Marketing requested a while back!

Website page preview capabilities for all electronic devices that may be used to access your website

Staging area for easier website building and deployment of updates to your website without the need for a dev URL - Yeah!

Ability to transfer pages to HubSpot for building and updating new websites

Included SSL certificate for any website hosted in the HubSpot Website platform - this will help with the new Google SEO preferences given to SSL sites.
You can see details of all the HubSpot Website Platform at www.hubspot.com/products/website
Predictive Lead Scoring
The more leads you generate for your company the better, but the more leads you generate the harder it is to figure out which ones your sales team should prioritize.
That's where lead scoring comes in. Lead scoring allows you to grade your leads based on how likely they are to close. Yet figuring out which characteristics are the most, or least important to include in your lead score can be quite the guessing game.
That's where predictive lead scoring comes in. Not only will it take into account information that your leads provide, but it will use additional information it has gathered about them such as the number of pages they have viewed. It will then predict the characteristics of a lead that are most likely to become a customer. Marketing can then focus on generating the highest quality of leads while sales can focus on who to prioritize in the sales process.
HubSpot Predictive Lead Scoring goes through all of your contacts and provides an automatic score based on that contact's probability to become a customer. It processes all those contacts, compares attributes of engaged and unengaged contacts, and puts them in a model that rates your contact's likeliness to convert.
You can see details of all the HubSpot Predictive Lead Scoring at http://www.hubspot.com/products/lead-management
Reporting Add-on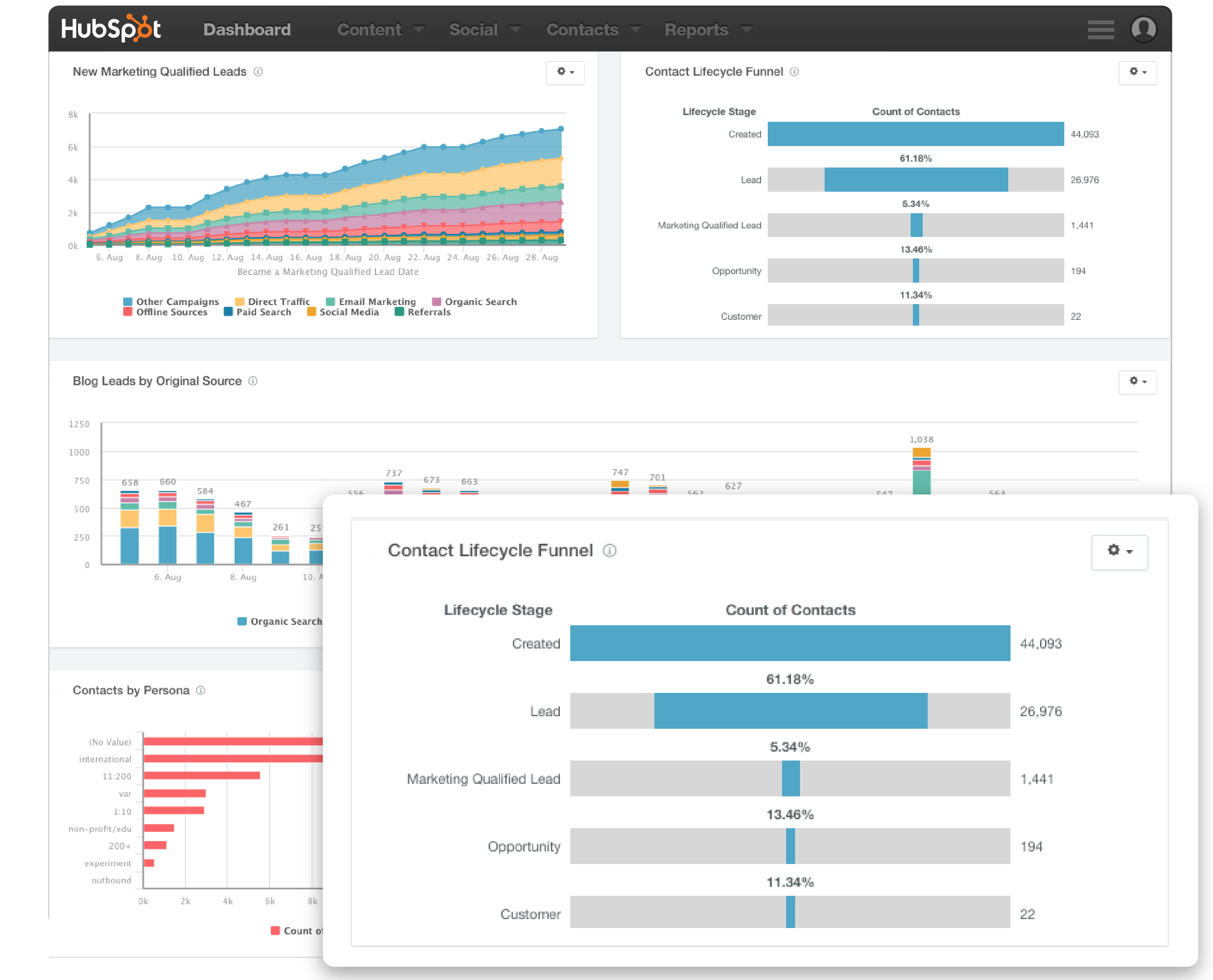 As your business grows, there are more metrics you need to report on with larger goals, a growing team, and accountability across the company. Going back and forth between different products can only make reporting on everything tedious and frustrating.
You need to open your reports in multiple tabs, log in with different user names and passwords that are often forgotten, and keep up to date with the evolving software. What you really need is a central location for all of your reporting needs. One tab, one username, one password, and one UI.
That's where the HubSpot Reporting Add-on comes in. This single dashboard takes all of your reports and puts them into one easily accessible and customizable screen. That means all of your marketing and sales reports are available to anyone in the company in a single view. As your team grows, you will be able to create new and customized reports for all of your needs.
Users can customize their own dashboard with the reports needed for their sales or marketing goals. New report templates are also available to use immediately or be customized for specific company initiatives. And you can continue to build reports from scratch, setting the criteria and visualization of data you want. In addition, the dashboard is customizable in itself as you can drag and drop reports into different locations on the page and edit what you want with an easy and fast execution.
You can see details of all the HubSpot reporting and learn more about HubSpot Reporting Add On at hubSpot.com/products/analytics
Leadin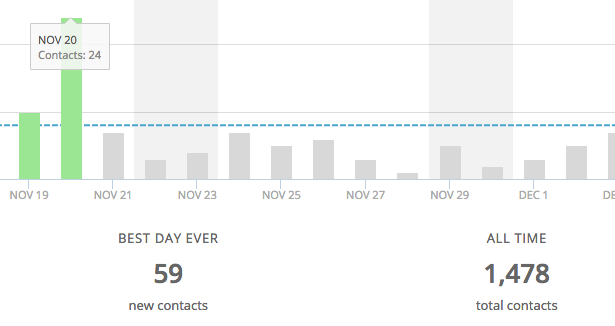 If you own a website, you know how hard it is to keep new leads coming in the door. Which methods work best for attracting visitors? How many times do people view your site before buying? What content is motivating people to fill out your contact form?
HubSpot's new Leadin is an inbound marketing app for small businesses wanting to know more about who's visiting their website and why. Clients can use this tool to insert a simple conversion form on their website and receive information about the pages visitors have viewed and their topics of interest. The data collected is the same as with HubSpot. In addition, Leadin users can view detailed performance analytics and segment lists for emails as the tool integrates with many email platforms.
HubSpot's goal with Leadin is simple; bring a simple contacts tracking tool to the masses.
With Leadin you'll be able to answer 2 crucial questions:
1. Who is visiting my site?
2. What content are they viewing before and after becoming leads?
Oh, and by the way, Leadin is 100% free!
You can see details of all the HubSpot reporting and learn more about HubSpot Reporting Add On at www.leadin.com
HubSpot Connect
HubSpot Connect brings all the data from different parts of your company into one platform through its relationship with numerous integration partners, including:
Salesforce

Eventbrite

Freshbooks

Uberflip

Perfect Audience

HelloSign

SurveyMonkey

SlideShare … and

many more!
HubSpot recognizes that many of its users have data such as accounting information, signed documents, and help-desk tickets in other platforms. Connect brings it all into the timeline so that you can view every touchpoint a lead has with your company. These integrations not only show up as the touch points for contacts, but can also be used to segment lists of contacts based on if they have filled out a survey using SurveyMonkey, attended an event with Eventbrite, or viewed a slide deck presentation with SlideShare.
Ads Add-on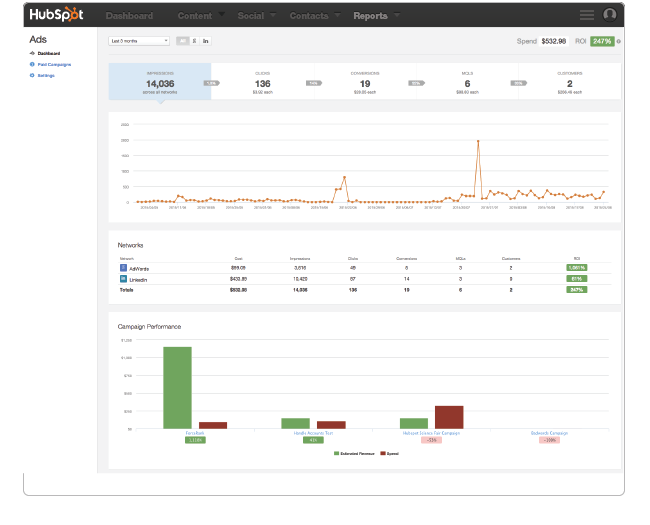 HubSpot's Ads Add-on is the easiest way to create, measure and leverage ads for Inbound Marketing campaigns. You can now create Search and Social ad campaigns right inside HubSpot, giving you a unique, closed loop view of your advertising ROI with the simplicity you love from HubSpot.
When HubSpot learned that more than half (53 percent) of its customers have tried ads this year, the team sat down to create an integrated platform for creating smart ad campaigns right in the HubSpot platform. Using the HubSpot Ad Add-on, clients can create an ad campaign for paid search queries, build it within the platform, preview the ad's appearance, set a campaign budget, and set the target audience for the campaign.
In addition, this add-on allows clients to view a comprehensive ROI visualization of the data from each campaign, including the number of impressions, clicks, and conversions you receive. And you'll be able to see how many clicks became MQLs and how many MQLs became customers. The reporting ties directly into the HubSpot CRM, showing you the actual dollar amount you brought in on each ad campaign spend. HubSpot Ads launches with LinkedIn Ad campaign creation and will be adding Google AdWords integration soon.
You can see details of all the HubSpot Ads Add-On at hubspot.com/products/ads
HubSpot CRM & Sidekick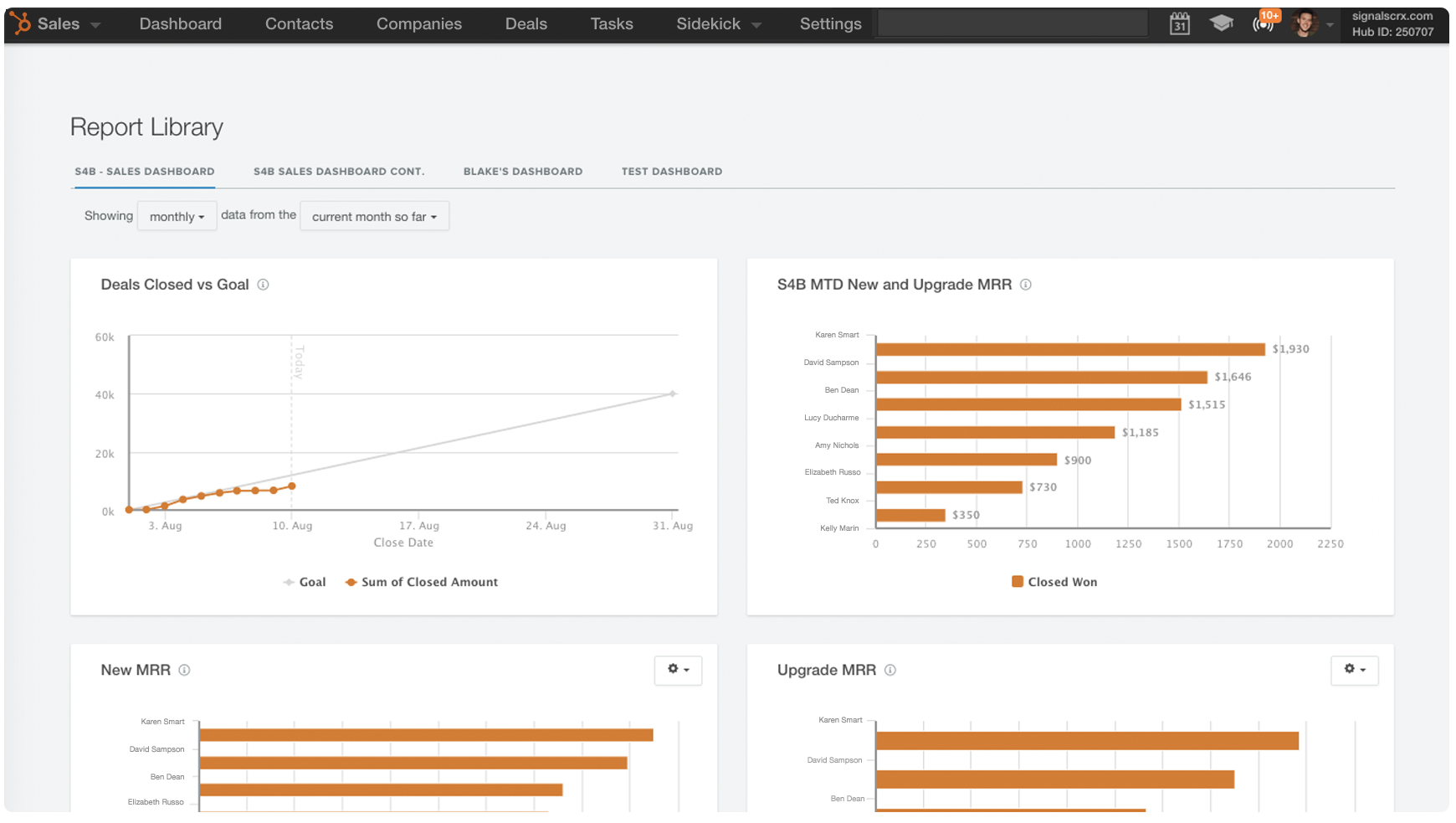 HubSpot's CRM is now bigger and better than ever with numerous sidekick enhancements and add-ons being added. Here is a summary of some of those additions.
Prospects
HubSpot moved the Prospects tool to the sales side of things, but marketing-only users continue to have access. You can now build a view, subscribe to a specific view, and receive a daily digest of those companies you want to target in sales. The tool is customizable for each user to allow you to choose different reports to view on your dashboard.
http://www.hubspot.com/products/sales
Sidekick Connections
Sidekick Connections surfaces the connections you never knew existed between your network and the companies you are selling to. You can view mutual connections in the Sidekick sidebar and in the Prospects applications, enabling you to request an introduction via your mutual connection with one click.
Sidekick Sequences
Your sales team can now use Sidekick for Business to do simple, highly targeted nurturing of prospects. The tool allows you to enroll a prospect to receive a sequence of templated emails right from inside Gmail or HubSpot CRM.
Sidekick for Business + Salesforce
Sidekick for Business users now have full access to the Sidekick sidebar inside Salesforce, including all of the current sidebar functionality with the ability to make calls from the sidebar. With improvements in activity logging, you can view email opens and clicks in a prospect's activity history.
CRM improvements
When you make a note about a contact or lead, you can now use @mentions in the HubSpot CRM to mention and notify a co-worker about any activity involving the contact. Your sales team can even pull the full history of interactions with a contact automatically into the CRM, including messages both sent and received, with the new Gmail integration. Finally, the HubSpot CRM now includes multiple deal pipelines to set up separate pipelines for different sales divisions, teams, or products.
If you need any help managing and optimizing your existing HubSpot account The Brit Agency is a Gold-level HubSpot Partner specializing in Inbound Marketing. Contact us today for a free marketing consultation!