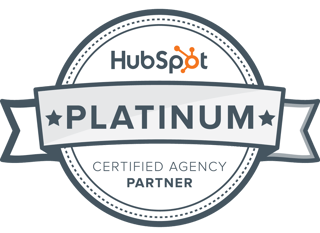 As a HubSpot Platinum Partner, we work closely with HubSpot to offer our clients the most up-to-date & certified HubSpot best practices to all our clients. HubSpot is a powerful tool, depending on the size of your business, you may not have the staff available to know the intricacies of each part of the platform. We work closely together to grow businesses at an accelerated rate by leveraging our knowledgeable HubSpot representatives, our certified staff and Beta-access programs to provide the best possible solutions for our clients.
Benefits of Working with a HubSpot Partner Agency
Gaining Our Knowledge, Expertise and Staff
As an agency, we are only successful if our clients are successful. By working with an agency, you will have access to all our certified team members; our content writers, web developers, designers, wizards and masters. On-top of that, our team will use all our tools such as Moz, Databox or LuckyOrange to give you a leg-up over just using a single program such as HubSpot, saving you the money and time you would need to use them yourself. We also usually have access to cool new features of HubSpot before they're released to the public, ensuring we are professionals by the time it's released to you.
HubSpot Partners Have a Direct Line to HubSpot Engineers, Support, and Other Staff
Do you hate waiting on hold with support or having to wait a day or 2 for that email reply for a question you wanted? As with any provider, when something does go wrong, you need to be able to have it fixed as quickly as possible. HubSpot partner agencies have direct access to various staff across HubSpot, which means that if we can't fix it ourselves, we are able to get the exact person instantly who can, saving you a lot of time and headaches.
We're More Than Just A HubSpot Partner Agency
We work with and hold partner status with many complementing products, such as
Shopify Partners
Google Partners
Databox Partners
Moz Certified
Bing Certified
And Many More
On-top of these certifications & partnerships, the most important part of all is that we, just like you, are human beings (Unless you're an AI). We are here to talk, consult, advise, help, and praise when you have any questions or concerns.
As a HubSpot Partner Agency, we're not only helping our clients with HubSpot, but we're HubSpot users ourselves. With our own websites and services hosted on the platform, we use this tool everyday. We're able to provide you with the best inbound marketing practices possible, utilizing the entire HubSpot platform from start to finish. We work with you for better reporting, transparency, training, and knowledge to give your company more traffic, more leads, and more sales!