We understand that eCommerce is getting more and more important for both B2B and B2C companies, and having a top-performing shop experience leads to more sales. This is why we're proud to be both Shopify and Hubspot partners, to bring the best Inbound Marketing practices to your website. We're also proud to be the only Platinum HubSpot Partner in Canada to have both of these partnerships.

With all the eCommerce platforms out there, we think that Shopify is the most adaptable to work with the Inbound Marketing principle, it also syncs perfectly with HubSpot to make use of the complete suite of products such as products within the CRM, abandoned cart notifications, workflow segmentation, landing pages built just for certain products, and much more.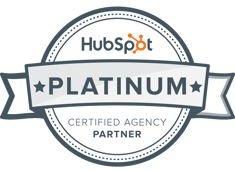 Being Shopify Partners means that we have taken training from Shopify to know the ins-and-outs of their platform, have access to priority support, and we also work closely with an account rep to ensure we're up to date on all knowledge so you can be sure that we're implementing the best of Shopify for your company. While our expertise in Inbound Marketing & Sales ensures your online store outperforms your competitors in a natural & organic fashion.
We also work with and hold partner status with many complementing products, such as:
Google Partners
Databox Partners
Moz Certified
Bing Certified
And Many More
Not only are we Shopify Partners, but we're Shopify Users! With our team having their own personal stores, selling all kinds of products, we use this tool every day. We work with you for better reporting, transparency, training, and knowledge to give your company more traffic, more leads, and more sales!